Center Pivot Upgrades
If you have any questions about our Center Pivot Upgrades, please give us a call at 701-7423-2219.
Retro Kit Control Panels
Reinke Automated Management System (RAMS) 2000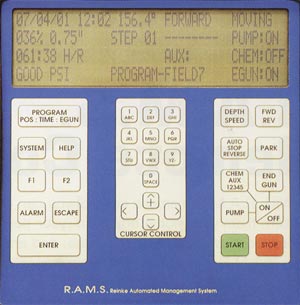 Designed with precision and efficiency in mind, the Reinke Automated Management System (RAMS 2000) is simple to operate and delivers complete control over your irrigation systems.
RAMS logic is extremely easy to understand and to program into the system - just answer the prompts. Storing and retrieving programs is simple with RAMS 2000!
Precision Application - RAMS 2000 conserves water resources and reduces percolation of nutrients with precision application. Application rates can be varied to sell types and slope conditions in the field. System position accuracy is measured in 10ths of a degree.
Greater Efficiency - With RAMS 2000 management time is conserved by eliminating unnecessary trips to the field. Check location, operational status, and auxiliary functions using the RAMS remote control or cell phone options.
RAMS Remote Control
With RAMS remote control you can control your irrigation system from your home office via your personal computer. Check location, operational status, and ancillary functions with RAMS remote and eliminate costly, unnecessary trips to the field.
RAMS remote software is easy to use, and allows you to control multiple systems from one base unit. Programs for specific systems can be transferred across the network with a few clicks of a button.
If problems occur with selected irrigation systems, the base unit can be programmed to alert you, or anyone you choose, by phone.
PAC II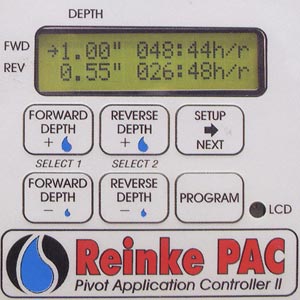 Reinke's Pivot Application Controller II (PAC II) precisely regulates water, fertilizer, and chemical application with center pivot and lateral move irrigation systems. PAC II is simple to program, and depth can be displayed to 1/100th of an inch. Depth settings are microprocessor-controlled and will remain accurate for the life of the product.
The unique touch keypad makes the PAC II setup easier than ever before. Versatile and functional,PAC II offers many options, including the ability to select English or Metric measurements, and the choice of varying cycle time options. Application rates are variable in forward and reverse modes. PAC II also features a programmable delay timer for longer soaking at the forward and reverse positions. Repeatable, highly accurate settings meet the demands for irrigating and/or chemigating in today's ag environment.
Reinke's dedication to quality workmanship means the PAC II is designed and built to provide reliability and durability for years to come.
When accuracy of application depth is critical, PAC II is the answer. To discover how the Reinke PAC II can enhance the operation of your center pivot or lateral move irrigation system, contact your local Reinke Dealer - a true professional in the field, and one you can count on for outstanding sales and service.
Retro Tower Box Kits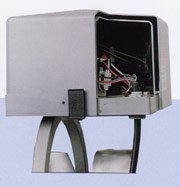 Reinke tower boxes provide a moisture-free environment for all electrical components. The doublewall box design eliminates condensation and keeps electrical components cool. Reinke's injection molded design results in the strongest corrosion resistant tower box in the industry.
System alignment contols are centered over the hinge point of every span. This positioning provides precise alignment, even on irregular terrain.
Mechanical safety interlock prevents removal of cover during operation.
Retro tower box kits are available for ALL models of Reinke systems. They can also be modified to fit on competitive brand systems.
Retro Drive Train Kits
CENTER DRIVE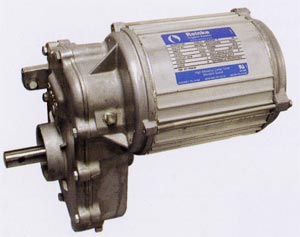 The Reinke Center Drive is engineered to give you years of trouble free service. Its high efficiency gear motor delivers exceptional torque to propel your system over the roughest terrain and worst soil conditions.
Only Reinke offers you a choice of three output RPM'S to match tire size and rotation time to your specific needs. Output RPM available: standard speed 36 RPM, high speed 73 RPM and low speed 24 RPM. A combination of these output RPM'S can be used to provide a smooth even water application to your crop.
HIGH EFFICIENCY HELICAL GEAR DESIGN ADVANTAGES:
Corrosion Resistant aluminum housing
Easy to reach drain and fill plugs
Double Output Seals
Finned aluminum motor housing dissipates heat rapidly. Motors run cooler and last longer
Corrosion resistant bolts
Internal overload protection
Easy to access junction box
Antiwrap shield to protect drive coupler from damage
Hardened helical gear gives many years of quiet, reliable service
Three output RPM'S to fit your field and crop
Low operational costs (96% efficiency)
EXTRA HEAVY-DUTY WHEEL GEARBOX
Dual input shaft for universal mounting.
New - Unique rolling diaphragm design minimizes positive and negative pressure build up during operation. Relieving negative pressure prevents water and contaminants from being drawn into the gear case.
New - Stainless steel diaphragm cover provides years of corrosion free life.
New - Larger input bearings (largest in the industry) provide 55% greater load capacity for today's larger tires and faster rotation times.
Non-Seizing drain plug for easy maintenance.
Non-Seizing fill plug for easy maintenance.
New - Input seal features two double-lipped seals with grease-filled gap for extended life.
End cap is machined from cast steel to handle the higher loads created with today's larger tires.
Seal protector blocks out contaminants and extends seal life.
New-Bull gear, designed for greater tooth contact, resulting in higher load capacity and longer life.
Large 2 1/4" diameter output shaft and flange are made of high strength steel to carry tower loads.
The centering ring doubles as a load-bearing surface relieving stress on the lug bolts and lesseneing potential wheel damage.
New - Reinforced housing provides more material in high stress areas increasing overall strength of the gearbox.
Input shaft cover snaps on to either end to guard against seal and shaft damage.
SEVERAL TIRE SELECTIONS
Fine tuning your new Reinke system includes proper tire selection. This allows you to match span weight and tire sizes to soil and terrain conditions. Retro Drive Train Kits are available for all makes and models of center pivot systems.
If you would like more information about our products or services, please contact us today!