Electrogator II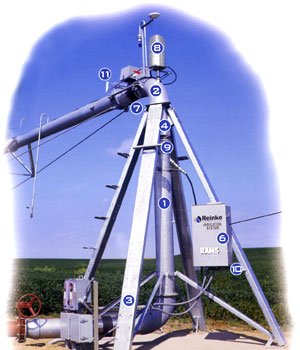 Durability, stability, and minimum maintenance - just a few of the qualities that make a Reinke Irrigation Ssytem one you can rely on for years to come. Quality workmanship and advanced design are evident throughour the entire pivot structure, and especially in our unique pivot point design.
8" or 10" riser pipe available, with eye level pressure gauge
Friction reducing sweep elbow
Legs: Durable 8" x 3" roll-formed leg
High strength 18" pivot center bearing
Easily adjustable controls on large diameter cam ring for non R.A.M.S. systems
Corrosion resistant aluminum main control panel
Stress relieving pivot flex joint standard on every pivot system
Corrosion resistant aluminum collector reel
Riser gasket seats against stainless steel surface for positive, long-lasting seal
Adjustable main control panel mount
Precision alignment for R.A.M.S. (computerized) main control panel
The Leader in Quality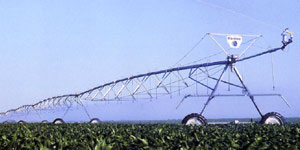 In 1968, the irrigation industry changed forever. Richard Reinke introduced the Electrogator - the world's first reversible, electric gear driven center pivot system. A classic combination of leading edge engineering, a passion for perfection and a rich tradition of excellence led to the most innovative irrigation system ever made. More than 30 years later, that first system (Electrogator #1) is still running strong near the company headquarters in Deshler, Nebraska.
The Electrogator was just the beginning of a partnership with growers worldwide that continues to this day - a partnership built on Reinke's dedication to providing growers with durable, reliable, and efficient irrigation systems. Reinke continually searches for ways to extend that partnership with new and enhanced products, including the Alumigator (our all aluminum system), our line of lateral move systems, the patented Energy Saver Package (E.S.P.) with swing arm corner, GPS corner system guidance, and more.
Thiry-five years ago, Reinke created an industry standard, and we're proud to say history has repeated itself with the development of the Electrogator II. Built with the same level of integrity, ingenuity, and attention to detail as the original, the Electrogator II delivers innovative new features that will once again change the way you look at irrigation.
We are committed to enriching our partnership with you, the grower, through our dealer network and through our commitment to quality workmanship and engineering advances. At Reinke, we've made it our mission to exceed your expectations of quality, service, and innovation.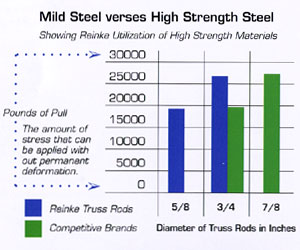 It's simple. You want a durable, trouble-free irrigation system that lasts. With the use of high strength steel and aluminum components, Reinke delivers just that.
Our systems are built with high strength materials to reduce weight and withstand many years of rigorous use in all types of field conditions. This reduces stress on the drive train and reduces the potential for deep wheel tracks, which can damage your field equipment. The result? Your ownership and maintenance costs are significantly reduced and you have a durable irrigation system you can count on for the long run.
High Quality Spans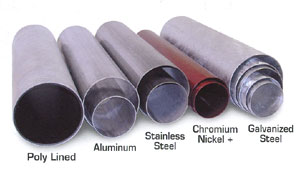 Reinke is the only irrigation company that offers you five types of water pipe and several different diameters to accomodate varying water conditions.
If you would like more information about our products or services, please contact us today!