Options and Accessories
Sprinkler Conversion Kits / Booster Pump Kits

Water conservation is a critical issue for you and your operation. Your Reinke Dealer is ready to assist you in selecting the right sprinkler package for maximum uniformity and efficiency.
meet your exact requirements, helping to increase yields and conserve water and energy. Reinke stocks a complete selection of the most efficient sprinkler packages available.
END GUNS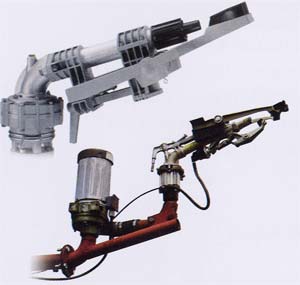 Renike's overhang design allows for booster pump location near the end gun which eliminates friction loss cause by small diameter supply hoses required on last tower mounts. This design maximizes pressure and efficiency to the end gun.
Sprinkler conversion kits are available for EQUIP programs or just for upgrading any brand of center pivot.
SPRINKLER OPTIONS
Reinke's sprinkler options maximize uniform delivery to the root zone and minimize runoff. Whether choosing low, medium, or high pressure, sprays or impacts, Reinke offers a complete line of sprinklers to match your soil type and condition.
We also have booster pump retro kits to upgrade old center pivots and for EQUIP programs.
AgSense PivotSense / GPS Control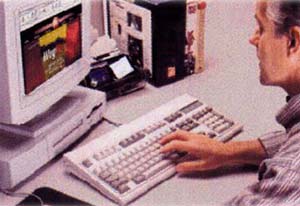 AgSense is the industry leader in providing web based farm management tools. AgSense offers two irrigation management products to fit your needs.
PivotSense Tracker is a GPS driven monitor/control unit that mounts on the end tower. PivotSense Tracker is more powerful than competing monitoring devices because the GPS enables you to see exactly where your pivot is in the field while providing information on direction and speed. The on-board relay and software gives you the ability to program the stop angle of the pivot from your computer or web-enabled PDA. Alerts can also be sent to your cell phone. All this is accomplished with only 3 wires to hook up.
PivotSense Pro has all the features of PivotSense Tracker, and also gives the added advantage of full remote control capabilities to most types of center pivot irrigation systems. It transforms mechanical control panels into powerful remotely operated digital control panels, or enhances the functions of existing digital control panels. PivotSense Pro enables you to remotely program, monitor and control your pivots from your computer or web-enabled PDA. Alerts can also be sent to your cell phone. With PivotSense Pro you have full remote control of your pivot and can easily program it to precisely adjust speed based on the location of the pivot in the field, perform on/off cycles, auto-reverse, auto-restart, and control the end gun.
PivotSense products are not event-based devices. Each PivotSense product gathers information from the pivot every 15 minutes and time stamps it so you can be sure the data is current. PivotSense technology is powerful and easy to use because the same interface is used for all control panels, regardless of make or model of the pivot.
Simply put - PivotSense will save you time and money!
PivotSense has elevated remote irrigation management to a new level. Take advantage of smart technology by conserving water, reducing fuel cost, utilizing labor more efficiently and reducing risk.
Easy to use:
Enter your user name and password at the secure website - www.wagnet.net.
Easy to understand graphics show a summary of status and position.
Standardized control regardless of the make and model of panel.
Reliable:
Components are sealed in weatherproof, UV rated, water tight enclosure.
No connectors used to eliminate electrical failures.
1 Year Standard Parts Warranty.
Profitable:
Reduce fuel cost.
More efficient use of labor.
Real-time information reduces risk and can lead to higher yields.
Sprinkler Lube
What is a thixotropic lubricant?
Sprinkler Lube 1200 is classified as a thixotropic lubricant. Thixotopy is a property that allows a substance to change from a thicker, gel-like state into a fluid where movement is present, yet return to the gel-like state when the movement stops. It remains thick where there is no movement.
What is it used for?
Sprinkler Lube 1200 is specially formulated for use in the gear boxes of center pivot irrigation systems. Its thixotropic properties allow it to have good flow back and heat transfer around bearings and gears, while remaining thicker at the outer areas of the gearbox to help with sealing - keeping water out and lubricant in.
What are some benefits of this product?
Sprinkler Lube 1200 assures maximum protection against corrosion of metal parts. This keeps the lubricant in good condition for extended service intervals. It is high-pass, which means it will not attack or corrode copper or brass, leaving the interior of the gearbox looking nearly new. The superior anti-wear extreme pressure agents of Sprinkler Lube 1200 protect against metal to metal contact and wear under excessive pressure or shock loads, increasing gear and bearing life. Special adhesive/cohesive additives make this product extremely sticky, which allows it to form a grease seal on worn shafts, keeping lubricant in and water out. This also keeps lubricant on metal parts eliminating dry starts or contact with moisture. Unlike traditional gear oil, the thicker, gel-like consistency of Sprinkler Lube 1200 makes it less likely to leak from the gearbox.
Sprinkler Lube 1200 is available in three different sizes for your convenience. Choose from the following: 35 lb. pail, 120 lb. Keg, 400 lb. Drum.
If you would like more information about our products or services, please contact us today!