Services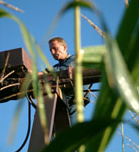 Our goal is to serve you, our customer.
We install, maintain, and repair all of the irrigation equipment that we sell. In addition to our top of the line products, we offer:
Center Pivot System Service Contracts
- yearly maintenance on your center pivot irrigation system
Winterizing Service Contracts
- pumping water out of underground pipelines to remove it from the frost zone
Laser Measuring
- to ensure precise positioning of your equipment in the field for optimal use
If you would like to take advantage of the services offered by our experienced professionals, contact us today!
Meet Our Staff